Richard Branson holes up in wine cellar as Hurricane Irma batters his home
Richard Branson holes up in the wine cellar as Hurricane Irma hits his private Island.
The billionaire businessman insisted staying on Necker Island with his team as the Category 5 storm approached.
The 185 mph storm destroyed several buildings on his luxury island.
CNBC.com
Richard Branson stays on island during Irma  
Richard Branson rode out Hurricane Irma by hunkering down in his wine cellar as the Category 5 storm ripped through his private island.
The Virgin boss had insisted on remaining on the island but took to the concrete shelter with his family and staff Wednesday when worst of the 185 mph winds passed over Necker Island in the Caribbean.
His son Sam said late Wednesday that everybody on the island had survived, but he added that many of the luxury island's buildings had been destroyed.
"Glad to say that all humans on Necker are ok although a lot of building destroyed," he wrote on Instagram.
Richard Branson to remain on private island as it faces the eye of Hurricane Irma  
The worst of the storm is thought to have now passed Necker Island, which sits to the north of the British Virgin Islands' collection of more than 40 islands and islets.
At 10 a.m BST (5 a.m. EDT) Thursday, the billionaire businessman retweeted a message of condolence sent by VirginLimitedEdition to the residents of the Caribbean.
View image on Twitter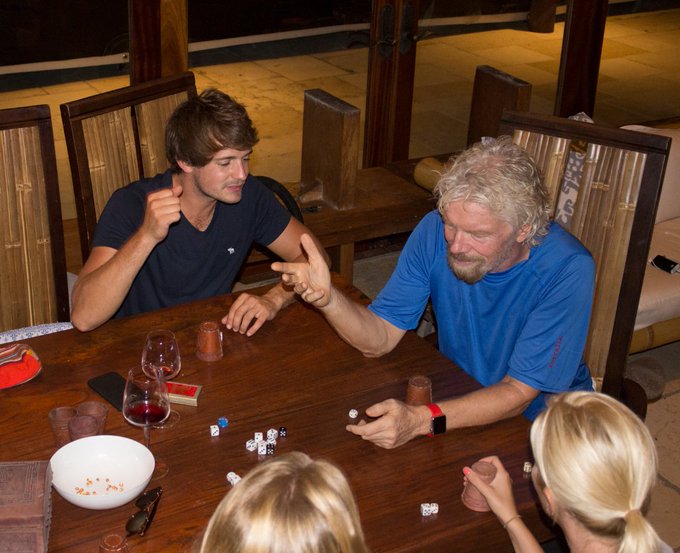 Hours before the storm hit, Branson published a Virgin blog post describing the atmosphere before as "eerie but beautiful."
He and his team spent the previous night together having a "sleepover" reminiscent of his childhood, Branson wrote, sharing a photo on Twitter.
I haven't had a sleepover quite like this since I was a kid. Wonderful team here on Necker all well https://virg.in/oGj  #Irma
"All of us slept together in two rooms. I haven't had a sleepover quite like it since I was a kid. Strangely, it's a privilege to experience what is turning into possibly the strongest storm ever with such a great group of young people," Branson wrote.
He later said that the team planned to relocate to the wine cellar, adding that little of the wine was likely to remain at the end of their stay.
"Knowing our wonderful team as I do, I suspect there will be little wine left in the cellar when we all emerge," Branson said.
Necker has a large main house and several small Balinese-style houses to accommodate up to 34 people. Branson wrote in a separate blog post-Wednesday that the properties were built to withstand severe weather. However, he added that "almost nothing" could withstand a Category 5 storm — the most severe rating.
Hurricane Irma continues to wreak havoc as it rips through the Caribbean, with projections suggesting it could hit Florida on Sunday. So far it has killed at least nine and reduced buildings to rubble.
President Donald Trump said he and his aides were monitoring Irma's progress. "But it looks like it could be something that will be not good. Believe me, not good," he told reporters at the White House.